Welcome to National College of Physical Education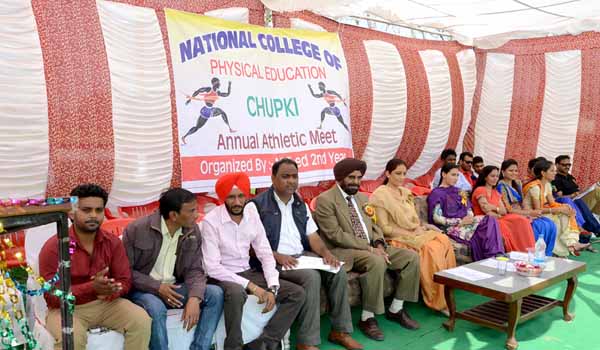 Promotion of Sports is one of the major concerns of our modern society. Excellence in sports is possible on the sound foundation of Physical Education and Movement Education. In the contemporary scenario, success in physical education and sports depends upon the quality of leaders who are well prepared through formal and informal acquisitions of multidimensional knowledge and training in the specialized discipline and its effective transaction.

Having realized the challenges of the 21 st century, the NCPE, Chupki felt a genuine need of setting up a most modern and well equipped Physical Education College with a firm commitment to produce innovative sports leaders, managers and administrators who will be proactive in facing health and fitness challenges with a mix of modern and traditional methods and approaches.
The National College of Physical Education, Chupki, is affiliated with Punjabi University, Patiala and also recognised by National Council of Teacher Education (NCTE).
The College has well qualified, committed and competent teacher educators to shape the personalities of teacher trainees into successful professionals. Experts from various fields of physical education and visiting faculty are invited on a regular basis for enrichment lectures and intellectual guidance to the trainees.
Principal's Message
With the opening of Indian Economy in the nineties of previous century. India saw a sudden change in the industrial educational and communication spheres of our polity. Though Punjab was a little late in accepting the advent of liberalization as compare to other states, soon a sea change was witness here also in education and health. Abiding by the spirit of the time 'The Patiala Educational Society' came into being in 2002 and launched a mission for the spread of professional education particularly in the backward and rural area of the state. In 2003 as a maiden venture National College of Physical Education was set up at Village Chupki on the Patiala Samana Main Road. Obtaining approvals from competent authorities N.C.T.E., Punjabi University Patiala and State Govt. the college had its first academic session for B.P.Ed. & B.P.E. Course in 2003-04. National College of Physical Education Chupki was the 3rd college of Physical Education in the whole state. Soon the college rubbed its soldiers with its sister institutions though they were decade older then this college. The quality of education and professional excellence remained the beacon lights of its existence. In the field of sports the college soon occupied preade of place competing with much larger and older colleges like Government Mohindra College and Government College of Physical Education Patiala. During its 10th year of infancy the college was declared overall champion in athletics. During this decade the college produce a sportsman and women of national and international standing. Even in Academics our students occupied position every year in the Punjabi University. It has been possible only by the commitment of the faculty and the management. The students are provided with facilities like hostel, Indoor games and well equipped grounds and libraries and laboratories. In the course of time C.P.Ed was also introduced in the year 2006 & the latest feather in its cap is the introduction of M.P.Ed. course in 2010. Now it is a post graduated college in Physical Education standing tall among the professional college of Punjabi University Patiala.

Dr. Jeet Singh
M.P.Ed., M.Phil, Ph.D, NIS (Hockey)